Well, we've just finished the first three months of Conundrum's existence.
And what a quarter it was.
We went from no signed authors to eleven signed authors (with another ten on the way) by the end of March. Now, I'm no mathemagician, but here's a little back-of-the-napkin math for you:

So, our growth, mathematically speaking, has been "Enter a non-zero value for "Starting Value."
(I guess that's good?)
Joking aside…
That's crazy. It really was an accident, too: I've never announced that we were starting a publishing company — I simply had an idea for a better way to publish books — and I asked if anyone had any thriller outlines they'd be willing to let us use for the test.
And the floodgates opened.
Our first series, an already written (yet never released) three-book post-apocalyptic series was sent to us, and we signed the author shortly after that.
We tweaked the model, adding and subtracting ingredients to the publishing process the same way I experiment with tiki drinks after work.
Things seemed to be working — the authors were happy, our readers were overjoyed that they were getting new, fantastic thrillers to read, and we were happy.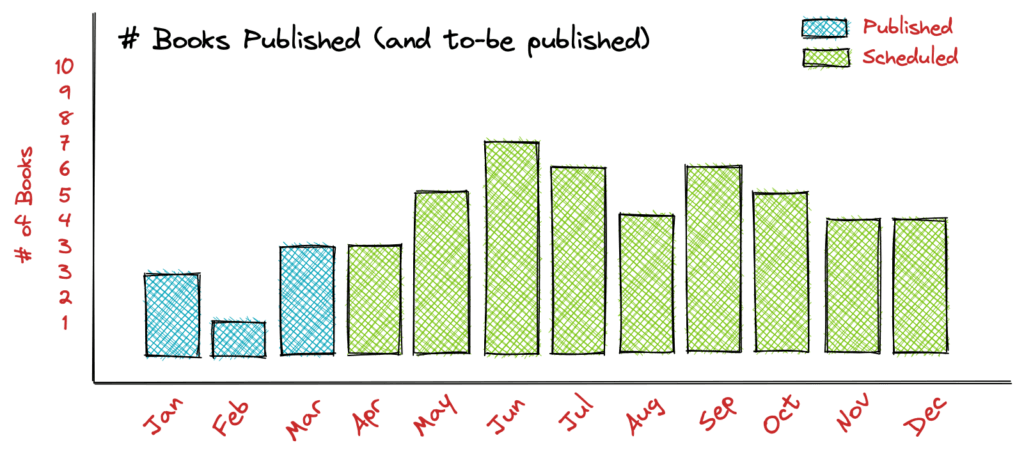 And the calendar is still filling up for Q3 and Q4 2022, as well as Q1 of 2023.
That means we needed something to keep track of it all:
Systems!
Every entrepreneur's favorite word — systems — was the thing to focus on next. We neeeed systems for tracking all of these titles, the production process, the authors' communications, and, of course, the money (assuming there was going to be any).
The first step toward that goal was to start building a kanban-style project management/CRM hybrid that could manage, at-a-glance and in-depth, each of the book projects, their authors, and the people working on them.
(Of course, it was just us working on them, but the plan was to scale as needed, and that was even more a reason to start in on the systems).
Here's the (WIP) result of that: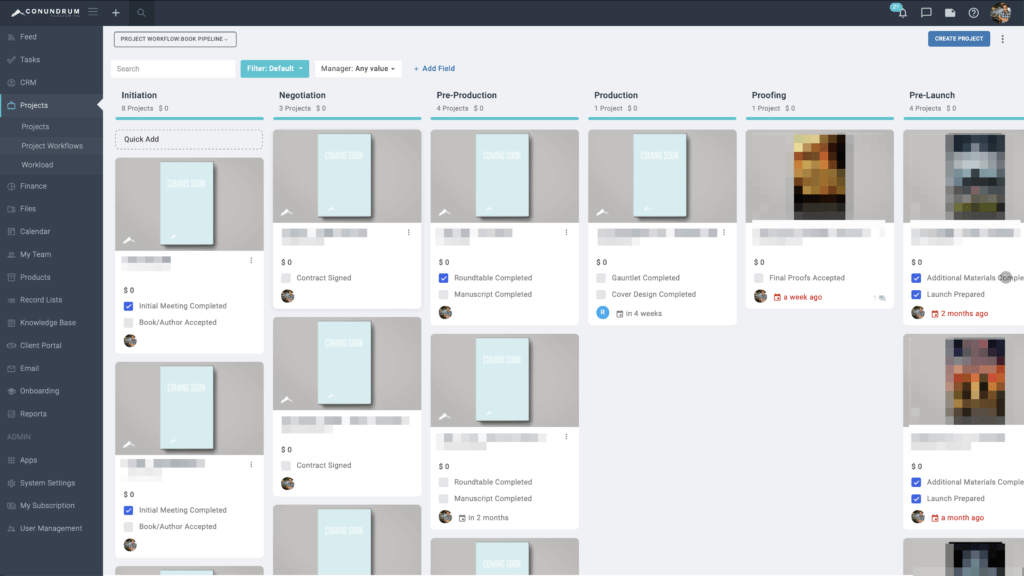 (Those covers and author names aren't blurry when we actually log in…)
The tool, so far, is great — far from perfect, but I've never heard of anything  like it in the publishing space. Most companies are using some combination of Google Sheets, some outdated Oracle CRM that was never purpose-built for publishing, and their brain.
I can't rely on my brain half the time, I Google Sheets is mind-numbingly ugly, and Oracle…(?) enough said.
So, our tool is the best we've got!
We also needed payment systems, and reporting tools. I had been paying contractors, W2 employees, and co-writers for years, so I just moved that system over to a "Conundrum"-specific one, and added some really cool features that I hope our authors will love:
First, we pay every month. 
It's 2022 — there's simply no reason to accrue funds for six months (the norm) and then pay bi-annually. Gross.
Second, we wanted our reporting to actually look good.
No more crappy PDF exports from Excel ("but what if we slap a logo on it?").
I built a reporting system that integrates with the exact report we receive, so there's no hassle, full transparency, and allows data manipulation for viewing it however the author wants to view it: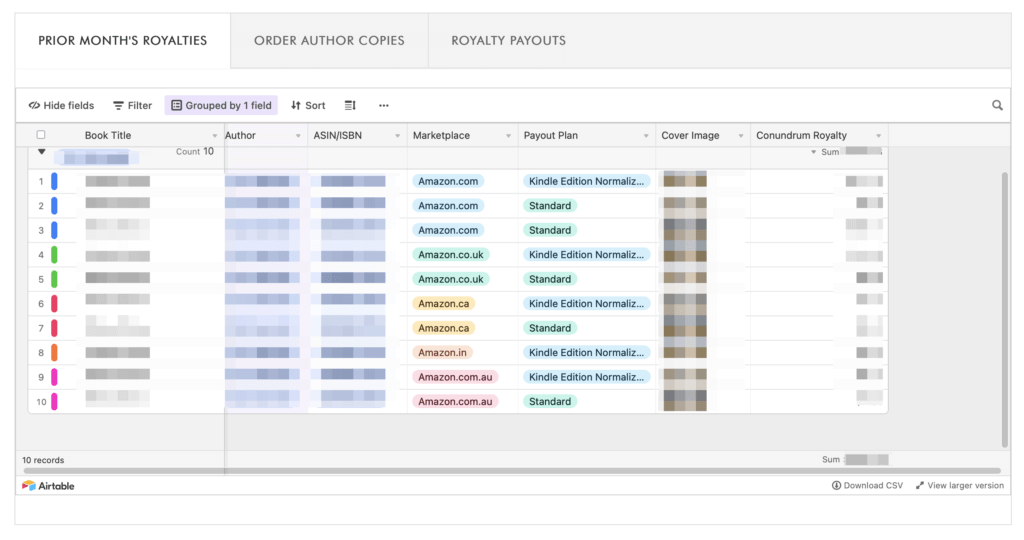 This dashboard lives on our website, and will allow authors to purchase author copies of their print books, view prior royalty statements, and download their own files.
Again: not something that exists in any other publishing company, most likely because it's a lot of work and authors don't realize they can ask for (and expect) more from their publisher.
But we're trying to change that, for one reason:
Authors win first. 
This has been our mantra from day one. I'm an author first and foremost, and I knew that in order to shake up the publishing industry, we had to do things differently.
But we also couldn't lose sight of the main reason we're doing all of this: authors should be treated better. They should have better technology. They should win first.
I talked about this more in this post, but the message is simple: we want to win (money is great!), but we can't do that and won't do that unless our authors win.
It's built into how our contracts work — there's no way for us to make money unless our authors make money first. Period.
The future
These quarterly updates are designed to spread the message about what we're doing, but also to keep me focused on the goal (authors win first).
For that reason, I want to end with some quick updates-to-be, some of the things we're working on that aren't quite ready yet.
New formats, new website, new deals
I've been meeting with stores, providers, and companies that would be really cool partnerships for us, including Patreon, some AI-based narration tools, and print integrations like Lulu and CloudPrinter.
All of these (hopeful) partnerships are going to make purchasing an author's books that much easier, cheaper for the reader, or offer their work in totally new formats.
Finally, no modern company can call themselves cool without a sexy website for people to get lost in, and that's exactly what I've been working on during the nights and weekend time.
It's far from finished, but the skeleton is there. We're building out the homepage and author-facing pages, the storefront, and individual product pages, where readers can choose a format, get their book delivered, and start reading (all without visiting the big 'Capital A' place!).
The goal will be to have a store that readers want to browse — because it will be filled, exclusively, with books they already know they're going to like.
More authors, more options
Lastly, we're working with some established authors on producing "special edition" versions of their work — these will live side-by-side with their existing catalog, and the goal will be to introduce their work to new readers in new ways.
I know all of this sounds vague and unfinished, and that's because it is — I can't give out details of the partnerships I'm working on, and I don't want to jump the gun on a deal that hasn't been finalized.
The early reports and statements we're getting show that this is just the early days (duh!), but it's also the exciting days. I have seen royalty statements that make me think, "if we can do this with only this many books, what's going to happen when we have 53?"
Our authors will win, and we'll keep finding ways to improve what traditional publishing is capable of.
I can't wait for the next quarterly update — if things continue along this path, I can't imagine it slowing down!
Thanks for reading all the way to the end, and talk soon!
Nick
Conundrum Publishing